Mango milk shake (portion for one)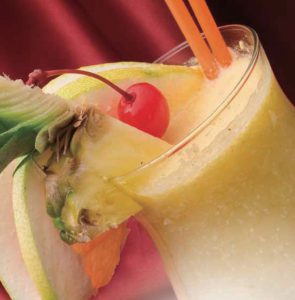 Ingredients
200ml milk (can use Supportan drink to replace milk to increase energy and protein)
100ml Mango ice cream (Other flavous are also ok) – around the size of one scoop
Steps
Putting all ingredients into blender and stir for 15-20seconds
Nutrition information
| | |
| --- | --- |
| Energy | 275kcal |
| Carbohydrate | 32g |
| Protein | 8g |
| Fat | 13g |
Home-made ice cream (portion for one)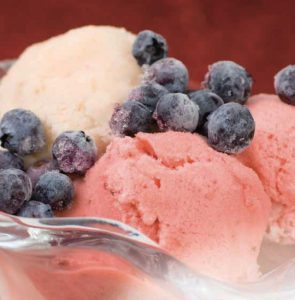 Ingredients
200ml milk (can use Supportan drink to replace milk to increase energy and protein)
50ml cream
Steps
Mix milk and cream well and put into refrigerator until it fixes
Nutrition information
| | |
| --- | --- |
| Energy | 294kcal |
| Carbohydrate | 11g |
| Protein | 7g |
| Fat | 25g |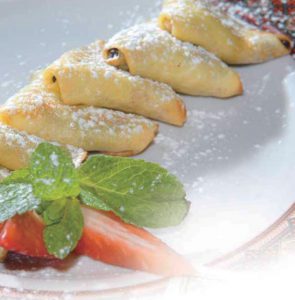 Ingredients
50ml milk (can use Supportan drink to replace milk to increase energy and protein)
40g self-raised flour
1 egg
4 teaspoon of sugar
2 teaspoon of butter
Steps
Put the egg inside the milk and stir. And then stir it with flour and sugar
Melt butter in a hot pan. Pour 1/3cup (about 80ml) of mixture into the pan. Medium heat the pan for 2 minutes until pancake becomes golden brown. Finally, you can add your favourite fruit, icing sugar, fruit jam, cream, chocolate sauce on it.
Nutrition information
| | |
| --- | --- |
| Energy | 95kcal |
| Carbohydrate | 12g |
| Protein | 3g |
| Fat | 4g |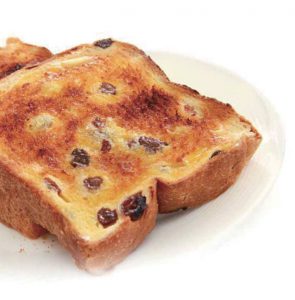 Ingredients
30ml milk (can use Supportan drink to replace milk to increase energy and protein)
1pcs thick bread
Half egg
1 teaspoon of butter or margarine
1 teaspoon of icing sugar
Steps
Mix milk with egg. Soak bread into the milk mixture
Melt butter in hot pan. Slowly heat the bread until it become golden yellow
Can spray icing sugar on the top of toast when finished. Can also add butter, peanut butter, chocolate sauce, fruit jam, condensed milk, caramel powder or sugar syrup according to personal preference
Nutrition information
| | |
| --- | --- |
| Energy | 238kcal |
| Carbohydrate | 30g |
| Protein | 9g |
| Fat | 9g |
Homemade fruit jam wheat bread roll (1person)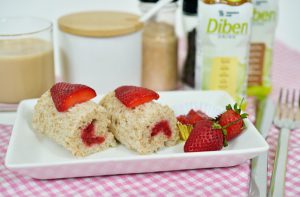 Ingredient
1pc of Wheat bread (with edge cut)
50g Strawberry
20g sugar substitue
Strawberry jam (without sugar)
Wash strawberry. Cut into small pieces. Slowly heat strawberry while stirring. Add sugar substitute. Continue to stir until it becomes thick. After it cools down, put it in the refrigerator.
Wheat bread roll**
Steam the wheat bread until it becomes soft. When it cools down, spread the fruit jam onto the bread and roll it. Cut it into 4 pieces.
Nutrition information
| | |
| --- | --- |
| Energy | 94kcal |
| Carbohydrate | 5g |
| Protein | 16g |
| Fat | 1g |
| Dietary Fibre | 1g |
**can drink one bottle of Diben drink during breakfast
High Fibre Mixed bean with Diben Drink***
Ingredients
100g of Mixed bean can (contains red kidney bean, cannellini, black eyed peas, pinto beans, butter bean etc)
1 bottle of Diben drink
Steps
Open the can and pour water away
Pour 1 bottle of Diben drink
Nutrition information
| | |
| --- | --- |
| Energy | 388kcal |
| Carbohydrate | 22g |
| Protein | 39g |
| Fat | 16g |
| Dietary Fibre | 10g |
***can put it into the refrigerator half hour and serve as cold food
*Acknowledgement: The above diabetes food receipt is provided by Angel of Diabetics
3 colours rice paper roll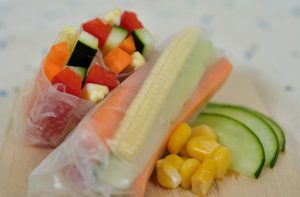 Ingredient
2pc of Rice paper
20g Carrot
20g Cucumber
20g Pearl shoot
Steps
Boil Pearl shoot for 1min. Cut carrot, cucumber and pearl shoot into stripe
Use warm water to soften the rice paper
Put carrot, cucumber and pearl shoot in the middle of rice paper and roll it
Put it on the plate and steam it for half minute. Let it cool and cut into pieces
Nutrition information
| | |
| --- | --- |
| Energy | 37kcal |
| Carbohydrate | 1g |
| Protein | 8g |
Can drink with one bottle of Diben drink during breakfast
Steamed egg with mixed bean and cereal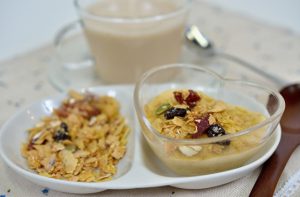 Ingredient (for one person)
5g Cereal
5g Mixed bean
1pcs Egg
100ml Water
Little Salt
Steps
Mix the egg with 100ml water
Add cereal, mixed bean and salt. Mix together and pour it into a bowl
Steam it for 2min. Turn the flame off and bake for 5min
Nutrition information
| | |
| --- | --- |
| Energy | 93kcal |
| Carbohydrate | 7g |
| Protein | 5g |
| Fat | 5g |
| Dietary Fibre | 1g |
Can drink with one bottle of Diben drink during breakfast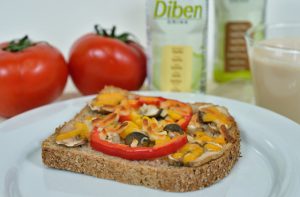 Ingredient (for 1 portion)
1pcs Wheat bread
20g Mixed mushroom
2pcs Cherry tomato
10g Cheese
Little Salt, Black pepper, Herbs
Steps
Use kitchen paper towel to swipe mixed mushroom. Cut cherry tomato into half
Put mixed mushroom and cherry tomato on the wheat bread. Add salt, black pepper, herbs and cheese
Preheat the oven at 180oC for 10 minutes
Put the wheat bread into the oven and bake it for 10min at 200°C
Nutrition information
| | |
| --- | --- |
| Energy | 132kcal |
| Carbohydrate | 10g |
| Protein | 14g |
| Fat | 4g |
Can drink with one bottle of Diben drink during breakfast
Mixed mushroom Cheese Eggroll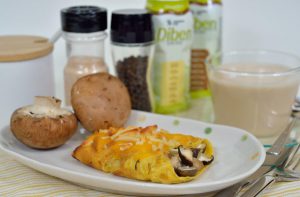 Ingredient (for 1 portion)
1pcs Egg
20g Mixed mushroom
5g Low fat cheddar cheese
Little Salt, Black pepper
Steps
Pan fry mixed mushroom
Stir egg and pan fry it into then egg sheet
Put mixed mushroom inside the egg sheet. Add salt and black pepper. Roll it and put chopped cheese on top of eggroll
Put it into oven at 200oC for 5minutes until the cheese melts. Take it out. Serve it when it cools down
Nutrition information
| | |
| --- | --- |
| Energy | 90kcal |
| Carbohydrate | 8g |
| Protein | 1g |
| Fat | 6g |
Can drink with one bottle of Diben drink during breakfast
Mixed vegetable in egg white cup
Ingredient (for 1 portion)
2pcs Egg
20g Red, yellow sweet pepper
20g Cucumber
Little Salt, Black pepper
Steps
Put eggs into cold water and boil for 5minutes
Take away the egg shell and egg yolk. Cut it into 2 halves
Chopped red and yellow sweet pepper into dice. Add little salt and black pepper. Put them into the egg white and serve
Nutrition information
| | |
| --- | --- |
| Energy | 44kcal |
| Carbohydrate | 6g |
| Protein | 5g |
| Dietary Fibre | 1g |
Can drink with one bottle of Diben drink during breakfast
Banana vanilla buckwheat groats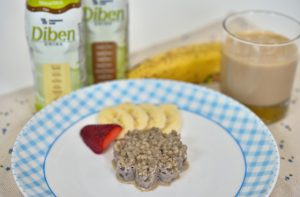 Ingredient (for 1 cup)
Half bottle Diben drink
40g Buckwheat groats
20g Banana
Steps
Put buckwheat groats into half bottle of Diben drink
Steam for 15 minutes. Let it cool down
Cut Banana into slices and put slices of banana on top of buckwheat groats
(Can put into refrigerator for 1 hour as cold serving)
Nutrition information
| | |
| --- | --- |
| Energy | 312kcal |
| Carbohydrate | 13g |
| Protein | 47g |
| Fat | 8g |
| Dietary Fibre | 7g |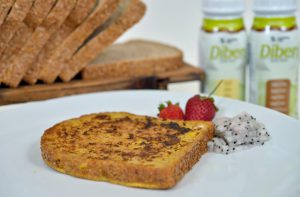 Ingredient (for 1 portion)
1pcs Wheat bread
1pcs Egg
5g Butter
Half bottle Diben drink
Steps
Stir egg with half bottle of Diben drink
Cut the edge of bread and soak it into the egg mixture
Add some butter on the pan and fry the bread until it turns golden yellow
Nutrition information
| | |
| --- | --- |
| Energy | 338kcal |
| Carbohydrate | 17g |
| Protein | 27g |
| Fat | 18g |
| Dietary Fibre | 2g |
Can drink with remained half bottle of Diben drink during breakfast
Mixed vegetable fusilli with herbs
Ingredient (for 1 person)
10g Fusilli
10g 3 colours sweet pepper
10g 3 colours bean
5ml Olive oil
Little herb and salt
Steps
Boil fusilli for 20min. Sieve boiled water and flush fusilli by cold water for 1 minute
Cut 3 colours sweet pepper into dices and pan fry with 3 colours beans for 1 minute
Add fusilli, salt and herbs and mix together
Nutrition information
| | |
| --- | --- |
| Energy | 77kcal |
| Carbohydrate | 1g |
| Protein | 7g |
| Fat | 5g |
Can drink with remained half bottle of Diben drink during breakfast
Golden cereal high nutrition breakfast drink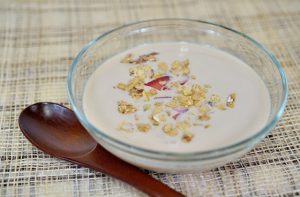 Ingredient (for 1 cup)
1 bottle Diben drink
10g Cereal
Little dried grapefruit
Steps
Pour one bottle of Diben drink into a cup
Panfry cereal until it turns golden yellow. Let the cereal cool and spread cereal on the cup and add little dried grapefruit
Nutrition information
| | |
| --- | --- |
| Energy | 335kcal |
| Carbohydrate | 16g |
| Protein | 34g |
| Fat | 15g |
| Dietary Fibre | 5g |
Walnut vanilla quinoa cup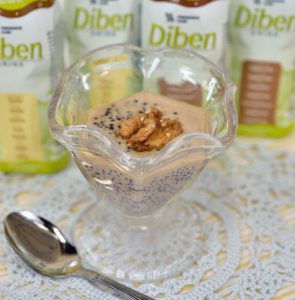 Ingredient (for 1 cup)
100ml Diben drink
40g Quinoa
5g Walnut
Steps
Wash quinoa with water. Sip through the water
Add quinoa into 100ml Diben Drink and steam for 20 minutes
Crush the walnut and spread on the quinoa
Can put it in the refrigerator for 1 hour as cold serving
Nutrition information
| | |
| --- | --- |
| Energy | 339kcal |
| Carbohydrate | 13g |
| Protein | 41g |
| Fat | 13g |
| Dietary Fibre | 6g |
*Acknowledgement: The above diabetes food receipt is provided by Angel of Diabetics