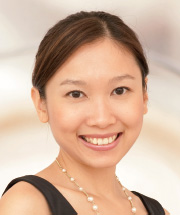 Registered Dietitian (UK)
Registered Dietitian (Australia)
Bsc Nutrition (King's College London)
Master of Nutrition & Dietetics (University of Sydney)
HKU Space Sports Nutrition
Ms. Poon is private practice registered dietitian. She provides versatile medical nutrition therapy, including cancer, weight management, diabetes, high blood pressure, high blood lipid, renal disease, fatty liver, metabolic arthritis, sports nutrition, geriatrics nutrition and feminine health. According to each person medical history, medicine, body characteristics and diet, personalized nutritional therapy can be provided. Ms. Poon is also always being invited as speaker for cancer nutrition talk and cooking workshop.